Mediterranean Modern Wellness
SeaSkin Life Ecoluxury Wellness
Lifestyle & Wellness Slow-aging / Empowering-body
SeaSkin Life is a global concept of well-being, inspired by the Mediterranean essence, modern well-being and a slow and conscious lifestyle. We are Mediterranean Modern Wellness.
For SeaSkin Life, Wellness is something continuous over time , it is not a way of being, but rather of being, "WELL-BEING" . It is a lifestyle that seeks to be aware of how I feel, how I project myself, how I live and what I consume.
We want to inspire our customers to lead a healthy and active life.
---
SeaSkin Life Universe
The SeaSkin Life Universe embraces a "Slow" life, seeks a conscious beauty "Be Aware" and respect for nature and its natural resources "Think Green".
philosophy
SeaSkin Life was born in 2008 to revolutionize the concept of cosmetics and give a 360º turn to daily skin care.
Today, SeaSkin Life is Ecoluxury Wellness par excellence.
CEO Olaya Garcia
Olaya grew up surrounded by hives, honeycombs and beekeeping instruments, thanks to her mother, María Antonia García, who runs La Casa del Apicultor, a family business with more than 30 years of experience in the sector. In 2008, after being diagnosed with intolerance to petrochemicals (petroleum derivatives) in sun creams, she decides to investigate, together with her mother (a biologist), natural solutions for her problem. As a result of this research, SeaSkin was born, the first line of high-end holistic cosmetic biotechnology created entirely in Spain (DO) that combines its family tradition of beekeeping, its knowledge of the marine environment and its sensitivity towards oriental phytocosmetic therapies.
The unique formulation of SeaSkin Life reinforces the slow-aging, empowering-body, the immune system of the skin and enhances the production of collagen and elastin.
Our cosmetic formulas fuse a deep knowledge of nature, ancestral knowledge and the scientific vanguard, giving life to rituals and products that connect with nature, its warmth and intoxicating aromas and textures, typical of a wild, beautiful, abrupt nature and in pure state.
Our own brands
---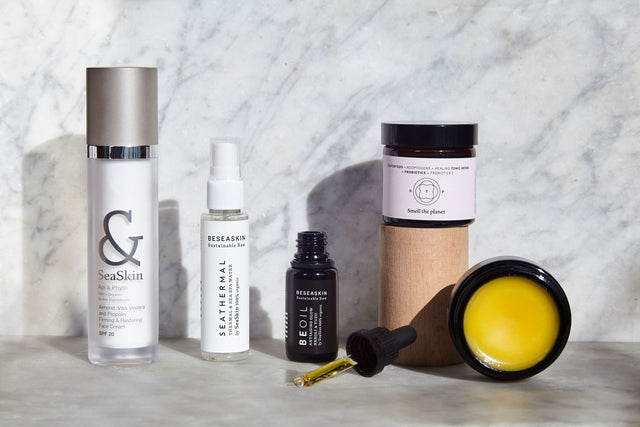 cosmetic excellence
Each product is carefully handcrafted, using only pure ingredients and sustainable production processes with high quality standards, to provide our customers with high-end products, effective in their results and respectful of our natural resources. Under the SeaSkin Life philosophy and values, we transform daily routines into significant moments of full awareness and reconnection, which provide global well-being to body, mind and soul.
Explore Ritual Set
Philosophy & Ethics
The SeaSkin life Universe embraces a "Slow" life, seeks a conscious beauty "Be Aware" and respect for nature and its natural resources "Think Green".

see +