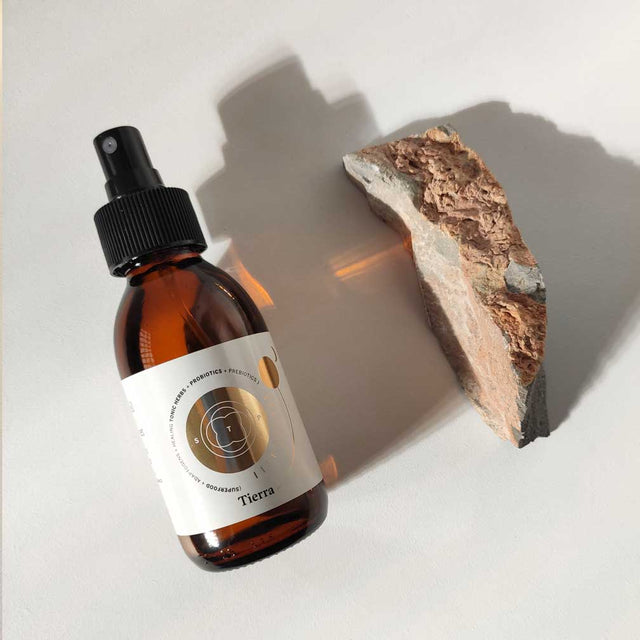 Smell the Planet Elixir Earth [Antioxidant Body Oil]
Elixir Tierra is a 100% organic and natural body oil that cares for your body, mind and soul with a delicious energizing botanical mix, cold pressed and packaged in crescent moon. Thanks to its active ingredients, it has great antioxidant and circulatory power and deeply hydrates. Emotionally it helps to motivate action and mindfulness, to achieve an awareness focused on the present.
100ml
RECOMMENDED FOR: All skin types.
INGREDIENTS
AGENTS
BENEFITS
RICH IN
APPLICATION AND DOSAGE
TEXTURE AND AROMA
PERFECT RITUAL
Sunflower Oil: Emollient, helps with acne, antibacterial and moisturizing.
Sesame Oil: It is one of the most complete ingredients for the skin. It has a high concentration of antioxidants and vitamin E, powerful natural antiaging.
Olive Oil: It is moisturizing, repairs damaged tissues, helps with premature aging of the skin.
AE Verbena: It is anti-inflammatory, calming, helps in sleep disorders.
Orange AE: It is calming and relaxing, skin tonic. It brings optimism, joy and good humor.

MOISTURIZING: Sunflower oil and Sesame oil.
EMOLLIENT: Sesame Oil.
SOOTHING: Orange essential oil.
ANTIBACTERIAL: Sunflower Oil.
REGENERATING: Sesame Oil.
ANTI- INFLAMMATORY: Verbena essential oil.

PHYSICAL BENEFITS: It is antioxidant, circulatory and moisturizing.
EMOTIONAL BENEFITS: Motivates action and achieves focused awareness.
RICH IN: Vitamins A, D, E, Magnesium, Linoleic Acid, Omega 6, Palmitic Acid, Zinc, Lecithin, Iron.
APPLICATION AND DOSE: Apply a small amount for each part of the body and massage until absorbed.
TEXTURE AND AROMA: Being an oil when you apply it to the skin it is oily and spreads easily throughout the body. Being a handmade product, without perfumes or dyes, its aroma is the perfect synergy of essential oils.
PERFECT RITUAL: Cleanse your body daily and then apply Earth Elixir.
RECOMMENDED | TYPE OF SKIN
PHYSICAL BENEFITS
Es antioxidante, circulatorio e hidratante.
EMOTIONAL BENEFITS
Motiva a la acción y logra una conciencia centrada.
APPLICATION AND DOSAGE
Aplicar una pequeña cantidad para cada parte del cuerpo y masajear hasta su absorción.
TEXTURE AND AROMA
Al ser un aceite cuando te lo aplicas en la piel es oleoso y se extiende fácilmente por el cuerpo. Al ser un producto elaborado artesanalmente, sin perfumes ni colorantes, su aroma es la perfecta sinergia de los aceites esenciales. 
OUR VALUES
Slow-aging / Empowering-body
100% organic and hypoallergenic cosmetics
Made entirely in Spain
Pure active ingredients
eco-friendly
Without adulterating or altering
DO Spain

perfect ritual
---
Limpiar el cuerpo diariamente con SeaSkin organic soap y a continuación aplicar Elixir Tierra para dejar hidratada la piel.